Bulk Uploader
The Bulk upload feature helps you to insert or update multiple documents at the same time without having to go to Add new document and select each document individually.
The feature is available from Menu bar ( see Working in menu bar ) and Toolbar ( see Working in toolbar ).
Uploader detects when the document to upload already exists in the repository, in that case, it will ask you if want to add this new content as a new document version.
This feature needs to have Java enabled in your browser.
If you're using a recent version of Goggle Chrome, keep on mind that Java applets won't work. Please take a look at Browser configuration for more info.
Usage
Choose node ( folder or record ) on your repository.
Click on Bulk upload icon. Will be shown the Uploader Window.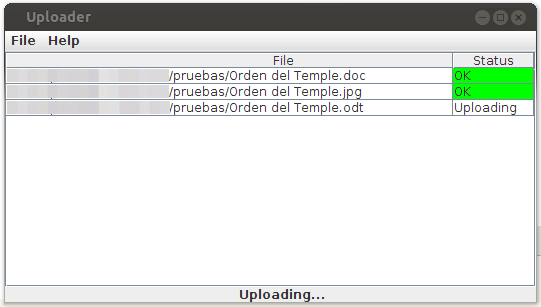 Drag and drop files or folders from your desktop computer to the Uploader window. The files and folders will be automatically uploaded to OpenKM, to your currently selected folder path
If a problem occurs while uploading a document, it will show an "Error" on the status column.